What we do.
Our work primarily involves the love and passion for the art of metalwork carried out for long centuries that have passed, but also for the wonderful historic gardens.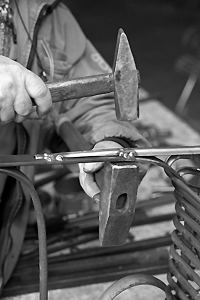 To reveal you our garden furniture models that will seduce you from the first sight, we invite you in a time-travel journey and we will we stop on the famous models made in the nineteenth century France by the Grassin Factories, St. Sauveur of Arras and the Carre Factories form Paris.
Today, with the gained experience and combined with the passion for excellence, we want to introduce you to the wonderful wrought iron furniture that has stood the test of time.
We are manufacturers of a wide range wrought iron furniture, which includes chairs, tables, benches, flower holders and kiosks, greenhouses, all in the style, shape and design of the famous nineteenth century french factories.
Because we take great respect to the past, we take the values that have been maintained by tradition over the centuries transposing them into our way of working with wrought iron.
Our products are carefully handmade by our experienced workers who give attention to each piece apart.
The assembly is made by riveting and the aged appearance that gives them the special air of yesteryear is for us an important goal. We gently bring the footprints of the two factories by the presence of the Hoof and Lion feet, specific to the unique design of Grassin and St. Saviour of Arras Factories and the emblem of the Carre Factory that you will find on the already famous chairs created in the XIX century.
We appreciate the tradition, quality and the infinite beauty of a piece of garden furniture that will surely entice you.
We invite you now to watch our garden furniture models and we promise that we will accompany you on your journey through time. Let yourself be enchanted!
Passion for tradition and beauty!
The art of wrought iron